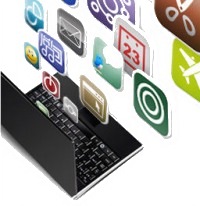 One more for posterity, really – just marking the development in case it really takes off…
With the start of IDF, Intel has announced its plans for a new ISV and developer programme for the mobile platform. Check out the intel press release – Intel Atom Processor Developer Program for Mobile Devices to Spur New Wave of Applications.
"We want to fuel the growth of Intel Atom-based products designed for the mobile lifestyle," declares Renee James, general manager, Intel Software and Services Group.
"The netbook has become one of the most popular consumer devices in the market today, but its true potential has been limited by applications that are not optimised for its mobility and smaller screen size. The Intel Atom Developer Program provides a great opportunity for developers to create useful and inventive applications that will unlock a netbook's potential while opening a new sales and distribution channel."
The Developer Program will officially support multiple operating systems and run-time environments, but think Microsoft Silverlight and Adobe Flash and AIR.
Of course, what Intel would love to happen is the take-up by developers already seen by Apple for its App Store, or the collaborative efforts widely seen from the Open Source community.
Rather more cynically, bolstering the definition of a distinct Intel platform can only help Intel to defend what it holds from any encroachment by ARM, which seems unable to see an attention-grabbing ARM-based netbook get to market (for whatever reason, whether it may be problems customising Ubuntu software, or difficulties in supporting Flash…).
Read David Manners view of the future clash between ARM and Intel – Can Osprey See Off The Vulture?