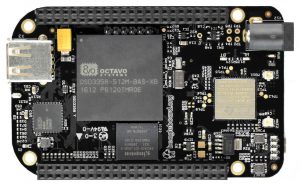 The BeagleBone Black Wireless, the credit-card-sized Linux computer that integrates Wi-Fi and Bluetooth interfaces and I/O for IoT sensors, is available from RS Components.
It is a development system which can be used with open-source software platforms such as Debian, Android and Ubuntu.
The hardware has both 2.4GHz 802.11b/g/n Wi-Fi and Bluetooth, but no Ethernet-10/100 connectivity.
There is however an HDMI output, serial debug port, PC USB interface and USB 2.0 host.
The main processor is TI's Sitara AM335x running at 1GHz, which integrates an ARM Cortex-A8 based processor core.
The board also offers two 32-bit programmable real-time microcontrollers, micro-HDMI connectivity, 512Mbyte of DDR3 RAM, and 4Gbyte of eMMC on-board flash memory storage, which includes Debian Linux pre-installed.
The BeagleBone functionality comes from the board's Octavo Systems OSD3358 device.
As such the wireless board is software, hardware and mechanically compatible with the BeagleBone Black.