The tools, which provide schematic entry and layout for PCB design, are available in two pricing options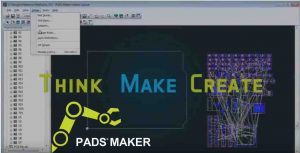 The PADS Maker design tool is free while PADS MakerPro provides additional design capacity at a cost of $499.
Both feature direct access, through PartQuest, to Digi-Key's part catalogue for more than a million ready-to-use symbols and footprints, and to PADS AMS Cloud, a free, cloud-based, analogue/mixed-signal circuit simulator.
PADS Maker is offered through a free, annual, renewable license. PADS MakerPro adds one year of enhanced support and increased design capacity, including additional layers and design size, for a one-time charge of $499.
Randall Restle, vice-president, applications engineering at Digi-Key, writes:
"Mentor eliminated the annual license subscription for the new PADS MakerPro edition in favour of a 'license once and use forever' license and made the new PADS Maker edition a totally free license.  Innovators will now have the best technology, at the lowest costs, to achieve their goals."