Built around the BeagleBone open hardware maker computer, it has a set of peripherals suited for building mobile robots.
The onboard 9-axis inertial measurement unit and barometer enable the development of self-aligning and orientating robotics, whether grounded or air borne, all directed with the support of on-board 802.11/b/g/n and Bluetooth 4.1/BLE wireless technology.
Also there are four dc motor drivers, eight servo interfaces and four quadrature encoder inputs.
BeagleBone Blue uses an Octavo Systems OSD3358 System-in-Package device which includes a TI AM3358 1-GHz ARM Cortex-A8 CPU with 512MB DDR3 RAM, 4GB 8-bit on-board flash storage and power management.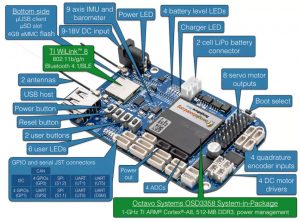 The TI AM3358 is notable for having two 32-bit programmable real-time units (PRUs) running at 200MHz, which is useful for application in robotics.
Claire Doyle from Premier Farnell, writes:
"This new product opens up new horizons, enabling makers and students with skills of all levels to have a go at creating their own robots or droids.  Built specifically for use in the development of robotics, it's easy to get started creating projects – either for fun or with a real world purpose in mind."
Mouser is also stocking BeagleBone Blue.