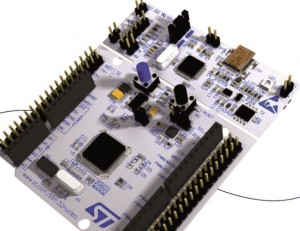 Called ST-AudioWeaver it will allow designers to build their digital audio applications without coding. A series of audio modules an be selected and connected graphically, with live-tuning on the target hardware.
There is a library of 160 royalty-free digital audio-processing modules, including filtering, array-processing and noise-cancelling modules.
The STM32F4, STM32L4, and STM32F7 are the MCUs currently supported in ST-AudioWeaver.
The Audio Weaver Designer PC GUI is also included free of charge, which lets developers configure the modules and do fine-tuning in the GUI or on prototype hardware.
DSP Concepts will also allow users of the tool to upgrade ST-Audio Weaver, for example by adding further audio modules or MATLAB API support.
Daniel Colonna, Marketing Director, Microcontroller Division, STMicroelectronics, writes:
"ST-AudioWeaver now gives our customers preferential access to help them make the most of the audio capabilities of STM32 MCUs, which complement the outstanding features and power efficiency for IoT applications."