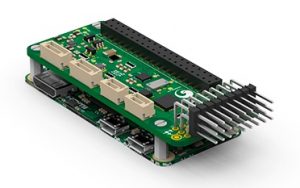 Called PXFmini, it can be used to create a ready-to-fly autopilot with support for Dronecode's open source unmanned aerial vehicle (UAV) platform and APM flight stack.
The daughter-board, priced at €69, has been designed specially for the Raspberry Pi Zero but it is also compatible with other models from the Raspberry Pi family.
Weighing only 15 grams the daughter-board interfaces with the drone's system electronics through I2C and a UART port. It has 8PWM servo output channels and a PPMSUM input.
For in-flight control there are: a 3-axes gravity sensor, 3-axes gyroscope, 3-axes digital compass, a pressure sensor, temperature sensor along with the necessary ADC.
The board connects using JST GH connectors, now adopted as standard by the Dronecode Foundation.
The firm said that through open source communities it will provide support for the de facto standard platforms for drones: the popular APM and PX4 autopilots.
About the Dronecode Project
The Dronecode Project, which is a non-profit structure governed by The Linux Foundation, aims to encourage development of open source consumer and commercial UAV software by building and supporting a community of developers and providing them design resources and tools.
According to the project team: "By partnering with The Linux Foundation, the Dronecode community will have access to collaboration best practices and resources to spread the reach of collaboratively-developed and open software."