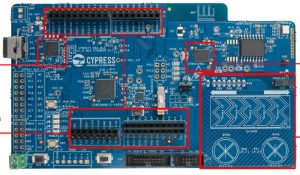 Called the Clicker 2 development kit, it will be marketed exclusively through RS.
The board contains a PSoC 63 Connectivity Line device, which is Bluetooth 5 compliant. Two separate mikroBUS interface headers support expansion using MikroElektronika click boards, providing functions such as GSM, GPS/GNSS, motor control, sub-GHz or 2.4GHz radio and speech recognition.
Jim Davis, marketing director for MCUs at Cypress, writes:
"The Clicker 2 for PSoC 6 marks our introduction into the flourishing MikroElektronika click board community utilising our PSoC 6 MCU solution, which is purpose-built for the IoT."
The PSoC6 MCU has a dual-core architecture, combining an Arm Cortex M4 and Cortex M0+. It is designed to interface with different types of sensors and creating custom interfaces.
Security features, based on trusted execution environment (TEE), provide protection including secure boot, secure data storage, and advanced cryptographic algorithms without the overhead of external memory or a secure element.