Called Poco, it is the work of developer Grant Sinclair, who is nephew of Sir Clive Sinclair who created the UK's first consumer computer, the Sinclair ZX Spectrum in the 1980s.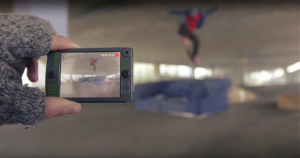 Poco is a small screen smartphone without the voice call and text capability. And it has the usual sensor capabilities of a phone – GPS, a Digital barometer, a 3-axis gyroscope, a 3-axis accelerometer, and a 3-axis magnetometer.
It will cost around $299, but lower cost developer kits maybe available.
It has wi-fi and a web browser and it can also be used as a camera, a gaming console, a music player and recorder.
The handheld device can shoot full HD 1080p video + 5MP still images from its dual front and back cameras and has a programmable Cree LED flash.
It has a 2.8 inch IPS touchscreen display for playback of content. There is a built-in micro HDMI port for connecting to a TV.
It will run Raspberry Pi games such as Minecraft or classics such as Quake from the online Pi community. There are also emulators for other console games, which can be played with the twin analogue joysticks and dual shoulder buttons.
Developer, Grant Sinclair has designed the Poco to support high resolution audio music formats such as FLAC, ALAC, WAV, AIFF and DSD, the format used by Super Audio Compact Discs (SACD).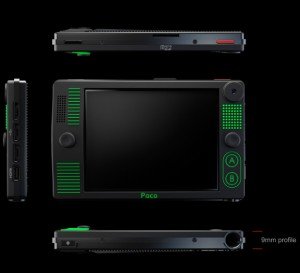 The dynamic range is greater than that of Compact Disc Digital Audio (CD-DA). This includes pulse-code modulation (PCM) encoded audio with sampling rates greater than 44100 Hz and with bit-depths greater than 16, or their equivalents using other encoding techniques such as pulse-density modulation (PDM).
Some of the hardware components are interesting, the piezoelectric speaker from Murata, the active matrix OLED display module from CMEL of Taiwan and a miniature camera module with autofocus, continuous variable aperture & shutter from Digital Imaging Systems of Germany.
Grant Sinclair has set up a company Sinclair Mobile to market the Poco which is currently the subject of a crowd-funding campaign on IndieGoGo. He says the plan is to get it manufactured in the UK at Sony Pencoed which makes the Raspberry Pi.