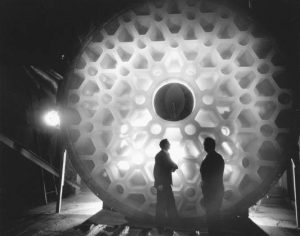 For a techie like me, it was a spell-binding place.
If I have to pick two wonderful exhibits:
One was the huge (5m, possibly) telescope mirror blank, made from Pyrex and once destined for the Palomar observatory, the cooling of which had to take a year to prevent stress.
The other was about making glass for flat-panel displays using a two-sided weir, where Corning generously credited its rival Pilkington for beating it in the race to make perfect window glass (Pilkington's 'float' glass won), leaving Corning with an expensive process, that only came into its own when thin ultra-flat-smooth glass was needed for displays.
I just found a video of the Corning 'fusion' process here.
If you are nearby and have some time, do go in – and report back.
Mirror blank image
.