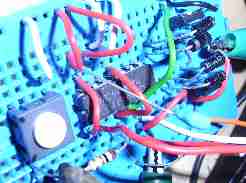 The development 'lab' has moved to the kitchen table as the workshop is so cold that there is liquid nitrogen sloshing around on the floor.
And as well as my 'scope, Dr Frustration appears to be in the house.
For two evenings I have been trying to fault-find a breadboard circuit with only four components that is so trivial I almost didn't try it.
And am not even sure I am at the bottom of it yet.
The circuit is supposed to be a push button on-off control, and is one that can be found all over the web.
Simply, a D-type flop-flop is wired /Q to D so that every time the CLK input gets a positive edge, the outputs change state.
An RC network debounces the push button.
Or so it is claimed.
It should work, particularly as the 74HC74 has a level-sensitive input and is reputed to have hysteresis on the clock input.
What could go wrong?
Well, I have tried R = 1M to 47k, and C = 0.1 to 1uF to no avail.
The flip-flop clocks nicely on the fast rising edge, then more often than not, clocks again on the slow negative edge.
It mostly works fine with no capacitor, except when the switch bounces.
Before you ask, /set and /reset are indeed wired to Vcc, and the 4th component is a decoupling cap.
I was assuming that the hysteresis – mentioned in data sheets from more than one manufacturer, was of the standard CMOS Schmitt type – with thresholds and 0.33 and 0.66% of Vcc.
But neither of the Nat Semi 74HC74s I have tried, nor the Motorola 54HC74, that I raided from my parts bin seem to have any noticeable hysteresis at all.
TI has two data sheets, one for SN74HC74 and one for CD74HC74, and only latter mentions hysteresis on the CLK input.
RCA also mentions hysteresis in my much dog-eared data book.
Does anyone know whether all 74HC74s have hysteresis?
And what the value it is when it does exists?
There are a whole bunch of mono, bi and n-stables on this blog and they were mostly hyperlinked until some IT changes at EW disconnected them all. As I can't face putting all the links back in the right places, here is a list instead.
A 74HC74 hysteresis mystery
Hysteresis mystery solved, probably
Two leds for one
And now the pcb
Simple circuit selects LEDs? – a tri-stable
More push button bistables
A 74HC4060 monostable?
Thoughts on another EEVblog – a power on-off bistable