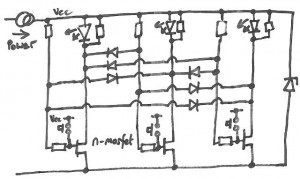 And this is what I came up with.
BTW: To make it more interesting (claims I), it is modified to light one of three LEDs by pushing the appropriate push button.
I have no idea if it works as I have no time to make it, model it, or indeed ponder it much 🙁
Is there a glaring error?
Could some kind soul with Spice have a go?
The idea is that whichever channel is selected steals gate drive from the other mosfets via the diode NOR gates.
It relies on the mosfets being pretty well 'off' with 0.6V on their gates, and properly 'on' with 3V (the drop of a lighting led) on their gates.
By way of a confession, I did try to think up a circuit with npn transistors, but gave up because I kept ending up with diodes in the emitters (wasting LED power) or using Schottky diodes for the diode logic NOR gates which seemed marginal to say the least – any ideas?