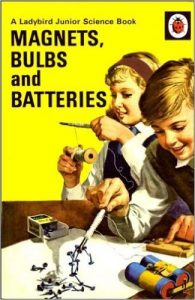 And, talking about some children that were used as models for the illustrations, one of the interviewees mentioned 'Magnets Bulbs and Batteries'.
I had forgotten all about that title, but a copy of that Ladybird Book was one of the childhood inspirations that got me into electronics.
Excellent.
I also remember that the page on series connection had a string of three bulbs connected in series, and that the one nearest the positive battery terminal was the brightest, and the one nearest the negative terminal was dimmest, as I recall – so either the artist was given an odd set of bulbs, or someone thought that electricity ran out as it went around the circuit….? (looking back at the .pdf of MB&B, it must have been another book as I cannot find acolour illustration of a series circuit in there)
Some wise gentlemen have suggested taking a look at The Boy Electrician (scanned in here) and Ladybird's Making a Transistor Radio too.
The image is taken from Amazon, where you can buy the book.
And you can download a scan of it here.