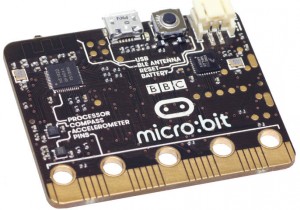 It looks like that one of the chips on some micro:bits is getting very hot.
It happened with his, and he has found two bloggers that refer to similar events:
The second of which has a video of a drip of water boiling away on the chip.
In this case, the chip is the NXP Kinetis ARM Cortex-M0 chip that handles USB communication for the board – the chip just below the white connector and push button in the picture.
Mike is thinking that maybe is is the result of an ESD incident while the board is powered.
Or maybe it is getting briefly over-volted?
Does anyone have a proper circuit diagram, asks Mike.