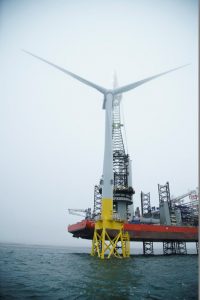 While most fo the turbines will be 8.4MW  'V164-8.4MW' types, two including the first are modified to produce a maximum of 8.8MW.
Total installed capacity will be 93.2MW, with annual production estimated at 312GWh, which the firm equates to: 79,209 homes, 70% of Aberdeen's domestic electricity or 23% of Aberdeen's total demand.
Rotor circumference of both models is 164m (80m blades), with the top rotor tip 191m above the waves.
Power leaves the turbines at 66kV via sub-sea cable to a land-based substation, known as Blackdog, where it is transformed to 132kV for transmission to SSE's Dyce substation, for further transformation to 275kV and connection to the National Grid network.
"Advancing to next-generation 66kV cabling to transport the energy produced from the turbines to the onshore substation will boost power transmission, improving efficiency and reliability," said Vattenfall. "The implementation of this cabling contributes to the offshore industry's cost reductions targets, improving life-cycle costs and lowering levelised cost of electricity."
Novel foundations
The sea bed is deep silty sand, allowing a new foundation technique to be used – called 'suction bucket jacket' foundations.
Rather than a conventional monopole, at the base of the turbine pole is a tripod (the jacket) which terminates in three huge (10m diameter) inverted tubes, sealed at the top – the buckets, otherwise know as suction caissons.
As the jacket with attached buckets is lowered onto the sea bed, the buckets sink a little way into the sand.
Then water is pumped out of the top of the buckets, causing sand to be drawn up inside them, with the result that the three buckets sink downwards, deep enough to form a permanent solid foundation. The process takes a matter of hours.
In years to come, claims the firm, pumping water back in will allow the foundations and tripod to be removed easily.
MHI Vestas designed the turbines and transported from Esbjerg to Aberdeen by Swire Blue Ocean's vessel, the Pacific Orca – believed to be the world's largest wind farm installation vessel.
Jean Morrison, Chair of Aberdeen Renewable Energy Group (AREG), said: "The EOWDC is leading the way in terms of innovation for the offshore wind sector and will help enable the next generation of offshore wind. It's a real coup for the region to have the world's most powerful turbines on its doorstep and cements Aberdeen's position as a major global energy city. It also will lead us to a greener future."