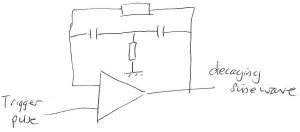 Hearing of the death of its inventor, Ikutaro Kakehashi, reminded me of it.
The particular kick drum sound is heard on many famous synth-band tracks, and the band 808 State took its name from the machine.
The circuit is essentially an op-amp with a bridge-T filter in its feedback loop – see diagram.
In the Roland design, it is a bit more complex – Mr Google will find you a full circuit, like this one.