Just realised that I haven't flagged this popular older post from our DIY blog, Gadget Master. It involves a Beagleboard-based development emulating Google's Android platform…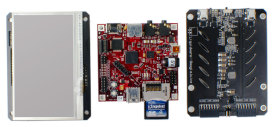 Want to build your very own Android device? Well, here's another great project from the 'Antipasto Hardware blogger' – the man who previously showed us how to build your own Linux tablet with a 4.3″ OLED touch display, Wi-Fi and 4GB of flash memory.
Again, it's a Beagleboard-based development, based on the same Beagle Embedded Starter Kit (pictured, top), but this time involving Google's Android platform. He has created the DIY Android Gadget Starter Kit.
It includes all you would need to get started programming Android hardware and software apps, or even to make a custom Android device.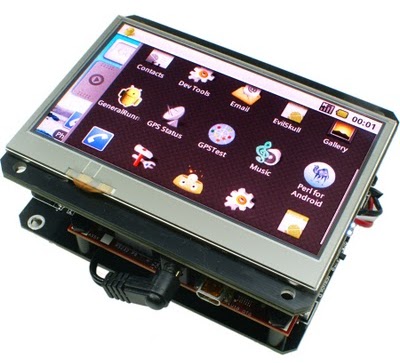 Pictured, right, is the Android DIY kit when assembled.
This dev kit uses the same base modules as his Open SciCal graphing calculator, he flags. And, considering the Android home menu, he adds:
The settings menu and options are fully functional, and the system comes preloaded with SL4A, a high performance scripting language that lets programmers write GUI's in Perl or Python (and a handful of other scripting languages):