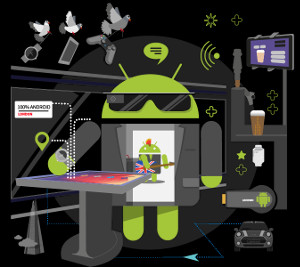 Android SDK engineer Chet Haase – you may have seen him on the "DevBytes" YouTube series – will deliver the keynote at the event, on October 30. He will be exploring what's new in Android.
Other speakers include Cyril Mottier of Capitaine Train, author of 'Smashing Android UI' Juhani Lehtimaki, and Android technology experts from Cyanogen, Google, Mozilla and Novoda.
The organisers describe Droidcon London 2014 as Europe's largest grassroots Android developer event.
"2014 has seen Android grow to 85% of smartphone global OS shipments and Droidcon London is a celebration of the most innovative developers working hard to accelerate this growth! We're extremely proud that London continues to attract the most exciting names in Android development and are confident to deliver an event which stands as a benchmark for all other Android events."
More information about Droidcon London 2014 can be found at http://uk.droidcon.com
httpv://youtu.be/YCHNAi9kJI4