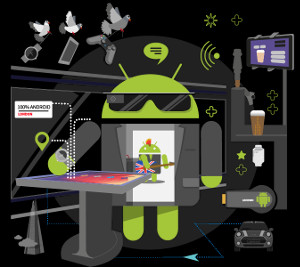 In relative mobile years, Android is perhaps in it's graduation period. Its beginnings as a plucky young open source OS alternative to the recognised market leader has been an exciting ride but the possibilities are just beginning.
According to new Strategy Analytic research, Android now accounts for 85% of smartphone OS shipments. The report also states in the second quarter of 2014 worldwide smartphone shipments totalled 295 million units.
One of the biggest names in smartphones, China's Huawei, recently even called it a day on alternative operating systems as they simply weren't yielding returns. Richard Yu, Huawei's consumer business group chief boldly stated: "It's easy to design a new OS, but the problem is building the ecosystem around it".
Windows just doesn't have a fighting chance at the moment because it doesn't have the mind share of anything which sets it apart for the better. Even if it were to offer a unique angle with a niche device such as only games or only enterprise, it would have to climb such a mountain that we can be assured a few years of Android market dominance. Android is now a consumers 1st choice, it's not a maybe. We're not an alternative user group anymore, we are a majority.
Android is big business
In the last twelve months alone, some of the most aspirational companies from Android's humble beginnings have transitioned into Enterprise – notably Divide being bought by Google, and Geeksphone teaming with Silent Circle to create Blackphone.
Another sign of maturity is that traditionally untechnical companies like Tesco are creating new revenue and channels by customising devices such as their own, very successful tablet the Hudl.
Making Android even better
Android L (5.0)  was announced at Google IO this year and the biggest thing the average user will notice is that the interface is getting an overhaul. L introduces a design methodology called Material and it's a way of understanding user interfaces. It brings in concepts of 3D interfaces and focuses on the animations and transitions of how you explore information within your application.
I particularly like the idea of persistence in user interface, the idea that nothing disappears and you can fling it to different places. Each app can have deep layers of exposable hierarchy, but how can you delve within those layers? And how are they organised? Material Design is a forward thinking design philosophy which will extend across all screens, all running Android, keeping one consistent set of interactions.
SoC and cheap stocking fillers
The longer term story of Android is devices.
At the moment, what's called wearables is Android's transition into ever smaller devices. Personally, I believe that Android's future is on the very smallest of devices as a system on chip (SoC).
Android is now moving from being just phones, where it has that market share. In fact, Google are a clear indicator of this as they don't spend anywhere near the time they used to justifying themselves on phones or tablets. Now, they're focusing on the wearables market and other form factors. Chromecast, Glass and their smart watches are all running Android.
Other companies like Sony and Samsung are making strides towards new form factors because they know there are whole new industries and new revenue to be had. Chromecasts are bound to be a popular 2014 stocking filler because they are so cheap. You now don't have to buy a whole new TV to benefit from 'smart' functionality. Just stick a Chromecast into it's USB port.
Wearables and a brave new world
People's acceptance of wearables still has a long way to go. Some initial concepts are becoming more comfortable, like Epson showing off its Moverio smart glasses at Droidcon London this year which are lighter and more comfortable than their predecessor. But our real world applications are still limited by our experience. We have never lived in a world where the majority of objects have some sort of connectivity or interactivity. A world where connected devices contribute and are not just passive is one in which we've never lived in before and don't understand.
We are still waiting for the next billion users to access the internet. It's unlikely that they will quickly transition to a connected watch or a car – or maybe they will? Others will be growing up in that kind of world and come to expect this level of interaction as a norm. They'll come to be familiar and enabled. They'll create new ways of working in a new world and that's what's really exciting.
We're still fumbling through because we've never lived in that world before. It's hard to refine something with which you are completely unfamiliar. And of course affordability is another important factor in people's willingness to try out new concepts.
Connecting the dots from Shenzhen to the future
Tomorrow, you could go to Shenzhen in China and buy any of thousands of affordable devices which you could wear and that has Android on it. No problem. But there is an additional artificial barrier for entry on wearables created by the industry with products like Glass. They are just so incompatible with how people currently live, it wouldn't necessarily be of much benefit for people to buy them en masse.
So at the moment, you could have super cheap wearable devices but the fact is, people don't yet want them much.
Before this massive new industry is created we have to understand the use cases and create a set of dedicated users. Only then will we start connecting the dots and catch a glimpse of what the future can be.
Kevin McDonagh is the joint organiser of Droidcon London 2014 and CEO of Novoda.
Droidcon London 2014 will take place from 30th-31st October 2014, featuring speakers from Soundcloud, Etsy, Gradleware, CyanogenMod, Googler, Mozilla, Sony, Novoda and Spotfiy, describing the latest thinking in Android engineering.
For more information about the Droidcon London 2014 lineup go to: http://skillsmatter.com or http://uk.droidcon.com