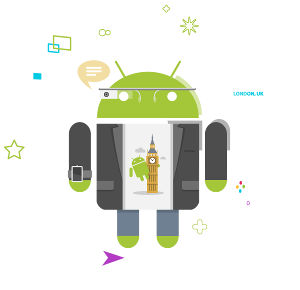 It's promising "futuristic Android technology" – for example, get your hands on Seraku Corp's smart mirror. It's making its first ever appearance outside of Japan and you can conjure up the latest news on demand. There's also Epson's Moverio BT-100 smart glasses and Sony smart watches.
Android industry figures who'll be there include Juhani Lehtimäki, author of "Smashing Android UI", and Hans Dockter, founder of Gradleware. There's also Dr Chris Bridges, billed as the man who beat NASA at getting a phone into space.
Technology giants such as Epson, Sony, Paypal and Intel will also be showing off Android-powered inventions.
"Since its conception just six years ago, Droidcon has become the event for the best within the Android industry and it attracts some of the world's best and most enthusiastic technological thinkers," said founder and CEO of Skills Matter, Wendy Devolder. "Skills Matter's involvement in this awesome event fits perfectly with our mission to support and drive innovation by bringing smart and creative people together. Every year, Droidcon London gets bigger and better and this year promises to reveal some truly life changing insights and technologies."
Read all the details at http://uk.droidcon.com/2013/
It is described as Europe's largest Android developer event, and it runs 24-25 October at the Business Design Centre in Islington, and will be followed by a Best-of-the-Best weekend hackathon at Skills Matter from the 26-27 October.