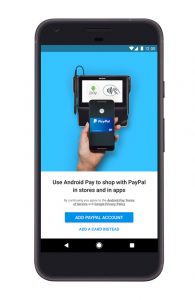 Pali Bhat, Global Head of Payment Products at Goggle, writes that the new feature will roll out in the "next few weeks".
Millions of people already use their PayPal account to make online purchases, receive payments and send money to friends and family. Soon they can start using the same PayPal account to tap and pay with their phones in stores and speed through checkout in Android apps.
Bill Ready, Chief Operating Officer at the payment company, writes:
Today, we're excited to announce that we are extending our partnership with Goggle to make it easy for consumers to use PayPal as a payment method in Android Pay wherever Android Pay is accepted, in-store, in-app and online.

Coming soon, consumers in the U.S. will be able to use PayPal in Android Pay at retailers from Walgreens to Dunkin' Donuts. This partnership will enable our customers to pay across even more contexts, and will extend PayPal's mobile leadership and reach as consumers become more comfortable shopping and buying on their mobile devices.
Apple Pay is already supported by the payment system popularised with eBay.