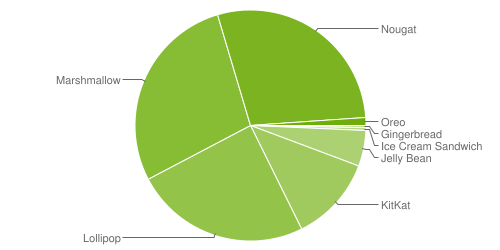 As always, the stats are based on active devices interacting with Google Play over the period of a week. ("Data collected during a 7-day period ending on February 5, 2018. Any versions with less than 0.1% distribution are not shown")
The main takeaway is the continuing increase for Android "Nougat" 7.x. It has gained 2.2 extra points in percentage share, and Nougat is now running on more than a quarter of all devices in the wild (28.5%).
The lower, older orders are inexorably shrinking in their share. Having held on so long, KitKat is down from  12.8% to 12.0%, Lollipop from 25.1% to 24.6%, and Jelly Bean from 5.6% to 5%.
The relatively recent Marshmallow also continues to make way for its newer sibling, as you can see below.
Android "Oreo" v8.0 and v8.1 account for a minuscule 1.1% share. If your (Pixel?) device runs Oreo, consider yourself a member of the "1 per cent"!
See Google's developers dashboard for the full latest stats.
Monthly comparison
So, here are the detailed Android platform share figures, with comparison to the previous month for some context…
2.3 – 2.3.2 Gingerbread – disappeared
2.3.3 – 2.3.7 – (was 0.4%) – 0.3%
3.2 Honeycomb – disappeared
4.0.3 – 4.0.4 Ice Cream Sandwich – (was 0.5%) – 0.4%
4.1 Jelly Bean – (was 1.9%) – 1.7%
4.2 Jelly Bean – (was 2.9%) – 2.6%
4.3 Jelly Bean – (was 0.8%) – 0.7%
4.4 KitKat – (was 12.8%) – 12.0%
5.0 Lollipop – (was 5.7%) – 5.4%
5.1 Lollipop – (was 19.4%) – 19.2%
6.0 Marshmallow – (was 28.6%) – 28.1%
7.0 Nougat – (was 21.1%) – 22.3%
7.1 Nougat – (was 5.2%) – 6.2%
8.0 Oreo – (was 0.5%) – 0.8%
8.1 Oreo – (was 0.2%) – 0.3%
See the full stats at developer.android.com/about/dashboards/index.html