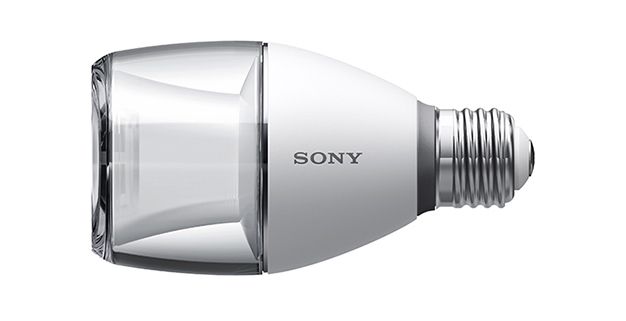 Woah. Was tech convergence meant to be like this? Sony is releasing a Bluetooth LED speaker…
Actually, the melange does makes sense. We're getting used to controllable lights, and Bluetooth is the fixture in the fittings of a Smart Home, and why not make the most of the space and fit in a speaker?…
TheVerge highlights the release of the LED Light Bulb Speaker. Sam Byford writes:
You can control the 360-lumen bulb with a smartphone app, of course, allowing for fine control of volume and brightness, and there's also a dedicated remote that can be paired over NFC. In a press release, Sony touts the speaker's compact, attractive design – which personally reminds me of the Harman Kardon SoundSticks subwoofer, though this is presumably somewhat quieter — and says that it lets you play music in places where it's been difficult to put audio equipment before.
Apparently the LED Light Bulb Speaker will be released in the Japanese market on 23 May 23rd, with Sony's online store listing it for ¥23,880 (approx $200).
What do you think? Check out the video below, and leave a comment.
Note that a commenter points out that 360 lumen is not enough to really light a living space. It's a good point, but to be fair to Sony the lifestyle photos accompanying the product do show it in a lamp, or as part of three bulbs in a main room light fitting.
[Via Slashgear]