The Big Bang Data exhibition is just beginning at Somerset House. "Artists, designers and innovators show how the data explosion is transforming our world."
I'm always up for a bit of culture, so it was interesting to see the range of displays and exhibits involving technology, whether half-jokey gadgets or serious presentations.
See also: Picture Gallery: Big Bang Data exhibition
Transparency Grenade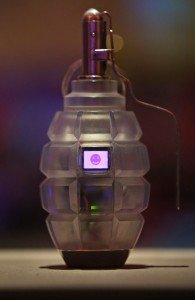 For example, putting the bang into Big Data was the "Transparency Grenade" by Julian Oliver (2012), made of "Resin, sterling silver and electrical components", just to be precise.
Oliver declares:
"The only tool against the lack of corporate and governmental transparency is the tedious procedure of policy reform. The Transparency Grenade makes the process of leaking information as easy as pulling a pin. Equipped with a tiny computer, microphone and powerful wireless antenna, it captures network traffic and audio, and streams it securely and anonymously to a dedicated server where it is mined for information.

When detonated, usernames, hostnames, IP addresses, unencrypted email fragments, web pages, images, and voices extracted from this data are presented on a public online map, shown at the location of the explosion."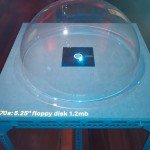 Among other exhibit displays were computer punch cards (0.08MB) from the 1950s, a spool tape (0.85MB) from the 1960s, and 5.25″ floppy disks (!) from the 1970s weighing in with 1.2MB of storage (yes, we're getting old).
There's also the Rosetta Disk, a digital archive of the world's languages (made of nickel and containing 13,000 pages, each 400 microns across, apparently).
Safecast geigercounter
Another interesting item was the bGeigie Nano, a geigercounter made by Safecast, an organisation formed in response to the nuclear accident at Fukishima. It was designed to help the people of Japan determine levels of radiation for themselves.
Safecast is an international, volunteer-centered organization devoted to open citizen science for the environment. After the devastating earthquake and tsunami which struck eastern Japan on March 11, 2011, and the subsequent meltdown of the Fukushima Daiichi Nuclear Power Plant, accurate and trustworthy radiation information was publicly unavailable.

Safecast was formed in response, and quickly began monitoring, collecting, and openly sharing information on environmental radiation and other pollutants, growing quickly in size, scope, and geographical reach. Our mission is to provide citizens worldwide with the tools they need to inform themselves by gathering and sharing accurate environmental data in an open and participatory fashion.
Submarine cables
You can't have big data without big data cables, and I've always found the intercontinental cable system interesting, the intersection of background data theory and physical reality.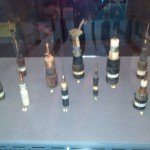 So, a cabinet displaying a number of historical submarine telegraph cable connectors caught my eye. Ranging from the first 1896 connector, through coaxial cables up to a fibre optic submarine cable from the 1990s. Apparently, since 2000 more than 80% of international data is transmitted using deep sea cables (which prompts questions about the other 20%!).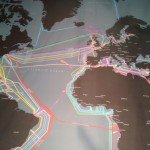 There was also a "Telegeography" floor map showing the routing of the submarine cables, and the same information appeared on a traditional globe (the width of the lines proportional to the capacity of the cable). With other globes showing thing such as global density of mobile phones per person, and refugee currents.
Telefonica
The exhibition originated in Barcelona, with sponsorship from the Spanish telco Telefonica, and has also been to Madrid and Beunos Aires.
"Big Bang Data explores the issues surrounding the datafication of our world through the work of artists, designers, journalists and visionaries. As the data explosion accelerates, we ask if we really understand our relationship with data, and explore the meaning and implications of data for our future."
The London incarnation see the addition of a 'London Situation Room'. See below, giving various presentations of data feeds in real time.
Immerse yourself in live data at the London Situation Room featuring new interactive works from Future Cities Catapult & Tekja. Real time data from Twitter, Instagram and Transport for London will be transformed and visualised to show the pulse of the city, whilst Future Cities Catapult will use data to project the future of the city, putting you in control of London.
I must admit one that tickled me was Debtris, by David McCandless, displaying various sizes of government expenditure as proportional scaled coloured blocks, a la Tetris.
A darker one was the "Left to die boat", revealing the amount of data gathered about those who were fatally ignored. Surveillance is no guarantee of survival.
The show is described as "A great exhibition for the whole family," by Radio Four's Front Row. The only duff note – if you are bringing kids – is the inclusion of an infographic on the sexual practices of a couple of artists. An info graphic, true, but not much connection with technology or Big Data.
Info graphics
A couple of other more interesting entries are also info graphics without much connection to technology, but at least they are related to Big Data.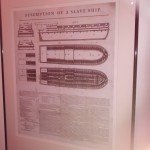 There is the Brookes Slave ship diagram (1785), detailing the horrific packing in of human slaves. Also fascinating to me was one of the world's oldest information graphics (1869), by Charles Joseph Minard – the death rate of Napoleon's Grand Army that invaded Russia in 1820, starting with half a million and ending with barely 10,000…
Embankment Galleries
Big Bang Data is being shown in the Somerset House Embankment Galleries, with entrance from the Embankment itself, mid-point between Temple and Embankment tube stations.
It runs for three months, 3 December 2015 – 28 February 2016. Tickets cost £12.50, or £9.50 for concessions.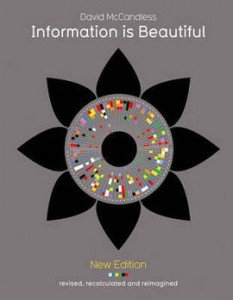 Incidentally, the exhibition shop at the end is a nice endpoint for lovers of info graphics, and there's some tech there, too. I was tempted by the book Information is Beautiful and can recommend it – a good pressie for a 'difficult to buy for' person. Loads of interesting facts and information with a twist of presentation, covering topics such as Microprocessor lineage, complementary tastes, Wikipedia page battles, plane crash stats, and dictator's wives…