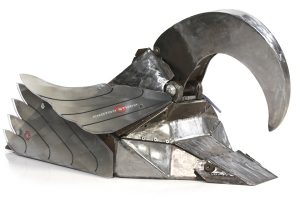 The event – described as a "family-friendly festival of invention and creativity" – runs this Saturday and Sunday, 1 – 2 April.
There are loads of organisations and companies taking part, from Bits and Bots and Internet of LEDs, through Jam the Noisy Robots and Northumbria University, to pi Top and The Raspberry Pi Foundation… You can see the full list.
For example, Kitronik will be demonstrating a 1,000 micro:bit display that they have coded so that you can play Space Invaders using a micro:bit.
The organisers write:
[Maker Faire UK] brings together over 300 hackers, crafters, coders, DIYers and garden shed inventors from across the globe – people who love to make stuff and who want to share their passion with the public.

It's really great fun for adults and kids alike, with all sorts of different things to try your hand at from traditional crafts to hi-tech hacks. The atmosphere is one of collaboration, sharing and experimenting, where you'll try new things, deepen existing knowledge and have loads of fun! Be prepared to be inspired. Don't be afraid to get stuck in!
Talks at the event include 'Kickstarter for makers and maker pros' by Heather Corcoran, 'Making on TV: experiences on The Big Life Fix' by Ross Atkin (The Crafty Robot) and 'The knowledge: how to rebuild our world from scratch' by Lewis Dartnell of the University of Westminster. There is also a range of workshops.
Prices are as follows:
Adult (aged 18+) £12
Child (aged 5 – 17) £7
Child (aged 4 and under) Free
Family (2 adults & 2 children or 1 adult & 3 children) £28
The BattleBot Cooler Master, pictured above, will also feature. "Can it Crush?"
The event is run by the DIY magazine Make and you can follow Maker Faire UK on twitter, for the latest info and updates.