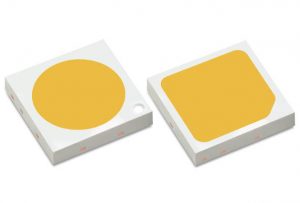 The device is the 3 x 3mm Luxeon 3030 2D with a square light-emitting surface – there is already one with a round emissive area.
"Flux performance is significantly improved over the company's existing 3030 2D with a round emitting surface," said Lumileds. "Existing customers will still have access to the one with the round LES, which enjoys widespread adoption, especially for down-light, industrial and A lamp applications."
The square emitting one is optimised for high flux and reliability in lighting applications including down-lights, high bay and low bay fixtures, and outdoor lighting applications, said the firm. "The led delivers flux exceeding 200 lm when driven at 240mA and 6V."
110 lm is available at 2,700K and 80CRI (120mA 6V). At 6,500K, there is 120 lm at 80CRI.
Specific chromaticity coordinates are offered at 85°C, and both LM-80 and TM-21 data are available.
The emitter is 1/9th ANSI micro-colour binned for tight colour control.