"The first product available in the new family of XD leds is the XLamp XD16 LED that delivers a breakthrough lumen density of up to 264 lm/mm2, which is 50% higher than the best leds currently available. and up to four times higher than Cree's previous generation of high power leds", said the firm.
Now available: see below for details and more parameters.
UPDATE
The headline for this article originally read 'intensity' record, but Celorum (see comments below) has pointed out that 'density', which is actually what Cree claimed a record for, appears to be the amount of light divide by the area of the package, not divided by the emissive area. I await the XD16 data sheet to clear it all up. Sorry for any confusion.
Cree clarifies
Our lumen density calculation uses the area of the package as the denominator of the fraction.
In the case of XQ-E, the max lumens is 334 lm but that is divided by 2.56mm2 (1.6 x 1.6), which results in lumen density of 334/2.56 = 130 lm/mm2.
Our claim of 264 lm/mm2 specifically translates to a claim of 2x the lumens from that same footprint package. So a 1.6 mm footprint package would have max light output of 675 lm.
The ceramic-based devices are intended for high output and high efficacy applications such as street lights and high bays.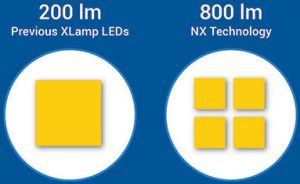 How Cree explains the output
Inside is a new LED technology called Dmax – these led firms do love their branding (XD is 'extreme density'), apparently new epitaxy is involved – plus a more efficient phosphor system, new package designs and a simpler manufacturing processes, apparently. Optical losses are under 2%.
Engineering samples of XD16 will be available by late spring, with production quantities to be available by the end of summer.
Now available
Mouser is stocking these leds, as of 09 May 2018
Some extra facts that come with the release of the parts. According to Mouser, maximum drive is 2A, with a 2.73V forward drop.
At this maximum of 6W, maximum output is 726 lm.
The 1.6 x 1.6mm ceramic-based package has a 6°C/W thermal resistance and 135° viewing angle while retaining low cross-talk.
XD16s come in ANSI White and Cree's 3-step and 5-step EasyWhite CCTs, ranging across 2,700 to 6,000K with 70, 80 and 90 CRI options.
Floor life, accordign to Mouser, is unlimited at less than 30°C and 85% relative humidity. The devices are UL-recognised and RoHS and REACH compliant.
Original version published 19 Apr 2017