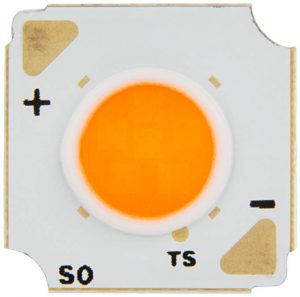 Acrich COB has two line-ups:
'MJT CoBs' use integrated multi-junction chips and up to 168lm/W efficacy. They come in standard form factors with a single power connection. There are now 11 products ranging from 6W (pictured) to 180W.
'AC CoBs' can be driven directly with ac and combined four groups of LEDs in a solderable design. There are six of them operating off 120V or 230V AC.
The device for spotlights also have multiple junctions and has improved colour-rendering for lighting for broadcasting studios. The company has not released a part number or a data sheet for this.
Amongst these parts is one with 168 lm/W luminous efficacy and a CRI of 80 at 40W, 5,000K  and a junction at 85°C.
"This high performance is achieved by the MJT COB utilizing only 54 chips, compared to competing COB products requiring 144 chips. MJT COB is more reliable due to a significant reduction of wire bonds," said Seoul.
No part number details are yet available.