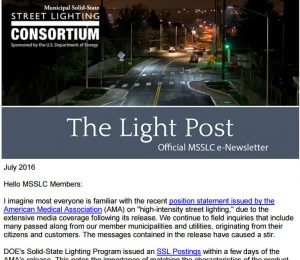 The US Municipal Solid-state Street Lighting Consortium has produced a short but detailed review of the American Medical Association's comments on LED street lighting.
By MSSLC director Bruce Kinzey, of the US government's Pacific Northwest National Laboratory, the review is backed-up with links to science.
The AMA report is good, and advocates led streetlighing, with some caveats.
There are some omissions, a few of the caveats may be based on incorrect assumptions, and parts of the report have been the subject of misreporting by some news outlets.
Maybe it is time for the AMA to have a think, and re-issue its report if it feels corrections or clarifications are needed.