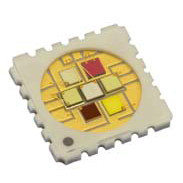 Led Engin specialises in high intensity power leds with compact emissive areas (see image). It also makes white-point tuneable products.
The company also supplies entertainment and horticulture markets, as well as UV-emitting leds for printing, curing and dental markets.
According to Osram, Led Engin's products mainly incorporate Osram led die.
"Led Engin opens up new opportunities for us to offer our customers tailored speciality lighting solutions," said ," said Osram's specialty lighting CEO Hans-Joachim Schwabe. "LED Engin products are suitable for a variety of specialty applications, making them an ideal addition to our portfolio."
The firm will be integrated into the professional and industrial applications section of Schwabe's business unit.
In the entertainment sector, as well as LED Engin, Osram has ClayPaky and ADB for concert, event, theatre, stage, and TV studio lighting.