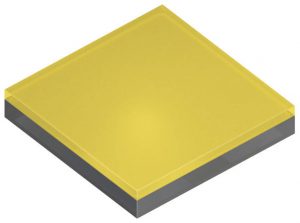 Called the Oslon Pure 1010, and revealed in prototype form, the 1 x 1mm device achieves a claimed 237 lm/mm² at 1A.
Typical flux is 100 lm at 350mA (3,000K white) and it is said to almost perfectly follow Lambert's law.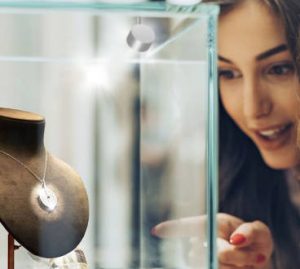 At 1A, "the achieved luminance is very much higher for the same component size. This property is useful particularly if the new LED is used for illuminating merchandise in retail outlets – diamond rings in a jeweler's shop, for example", said Osram.
Chip-scale packaging and the lens-less design means the device is only 0.25mm thick.
"The light-emitting surface is contacted not in the usual way with a bond wire from above but within the component itself without the need for bond wires," said the firm. "These properties together with the small dimensions enable multiple leds to be placed very close together in a small space. Warm white and cold white leds can be combined – the number of individual leds, their arrangement and the relative proportions of warm white and cold white LEDs can be tailored to meet specific customer requirements."
Being lens-less, lm/W will suffer a little, but lower etendue compared with a lensed version means smaller diameter luminaires for a given narrow output beam.
See the 80CRI prototype at Light+Building 2018 – 18-23 March, Frankfurt) Hall 6.2, booth C04.
Leds should be available in May, said Osram, with 90CRI versions following in the autumn.
Apologies that both images provided by Osram appear to be artists impressions.