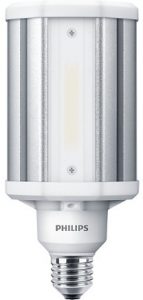 The frosted version of the Urban produces 4,400 lm from a 33W input (133.33 lm/W @ 4,000K 70CRI), while the clear version puts out 4,800 lm. There are also frosted and clear 25W versions (2,900 and 3,200 lm). This data sheet explains all.
At the same time, it announced TrueForce LED Industrial and Retail for replacing traditional HID lamps – expected to be available in the second half of this year.
The TrueForce LED range is rated at 50,000 hours and comes with a five-year warranty.
The third stage of the European Commission Regulation (EC) 245/2009 came into effect on April 13, 2017 – introducing stricter efficiency requirements for HID lamps and requires light sources not meeting the minimum energy efficiency requirements to be phased out, said Philips.