Reaction Engines Limited (REL) of Culham, which is building the  hybrid jet/rocket engine for  Skylon – the spaceplane successor to Hotol – has received a £26.5 million investment from Boeing and Rolls Royce.
BAe invested £20.6 million in 2015 and the government had previously  invested £60 million. REL has now raised over £100 million to build the engine which it calls Sabre. Ground-based testing of Sabre is scheduled to start in 2020.
Sabre works like a conventional jet engine up to  Mach 5.5 and then goes into rocket mode. 
Key to the engine is a compact pre-cooler heat-exchanger that can take an incoming airstream of over 1,000C and cool it to -150C in less than 1/100th of a second. 
That allows the engine to use oxygen direct from the atmosphere for combustion instead of having to carry it in a tank.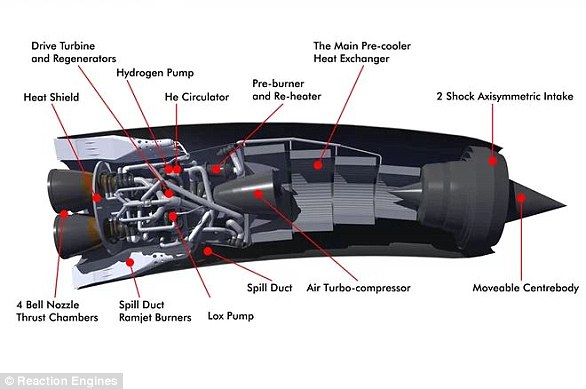 "The company recently secured a contract from DARPA to conduct high-temperature airflow testing of a Reaction Engines pre-cooler heat exchanger," says REL, "these tests will demonstrate the Company's world-leading heat exchanger technology, contributing to a rapid leap forward in pre-cooled propulsion, for both jet and combined cycle engines, as well as opening exciting possibilities for novel vehicle thermal management solutions."