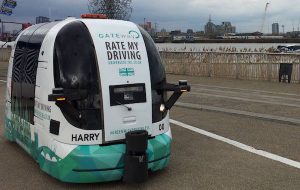 Called Harry, it is the latest phase of the the GATEway (Greenwich Automated Transport Environment) Project, which is looking into public acceptance of, and attitudes towards, driverless vehicles.
The trial, said Oxford artificial intelligence firm Oxbotica, which is providing the algorithms, is not about robotising existing forms of transport, such as the car, but is examining ways to optimise mobility for the urban environment using new modes of transport enabled by automation.
It will explore people's pre-conceptions of driverless vehicles and barriers to acceptance through detailed interviews with participants before and after they ride in the shuttle. Residents and visitors to the Peninsula can leave feedback via an interactive map.
Oxbotica's autonomy software system is called 'Selenium', and is intended to provide navigation, planning, and perception in dynamic environments.
Selenium uses on-board sensors including cameras and lasers, but not GPS, to locate itself in its map, perceive and track dynamic obstacles around it, and plan an obstacle-free trajectory to the goal.
High data-rate 3D laser range finders are used for obstacle detection and tracking, and an additional safety curtain is used for extra safety.
To complying with the UK's code of practice on automated vehicle testing, said Oxbotica, a human steward will remain on-board at all times.
GATEway Project is led by TRL and funded by government and industry. It aims to demonstrate automated vehicles for 'last mile' mobility, connecting existing transport hubs with residential and commercial areas using a zero emission, low noise transport system.
Research findings are intended to guide the introduction of automated vehicles in all forms of surface transport, including cars, lorries and buses.
Developed by British companies Westfield Sportscars, Heathrow Enterprises and Oxbotica, the shuttle has no steering wheel or typical driver controls.
Over eight hours of operation, one GATEway shuttle collects 4Tbyte of data.