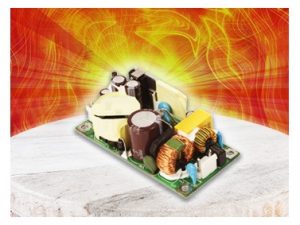 Convection cooled the power supplies, which measure only 76.2 x 38.1 x 23.5mm, have a peak rating of 50W for 60s.
The range consists of seven different models from 5 to 48Vdc output. The operating temperature range is 0 – 70 deg C with full load to 50 deg C.
Designed for energy efficiency, the supplies consume less than 0.1W during no load conditions and can offer efficiencies up to 91%.
The product operates from 90 – 264Vac input with no derating and meets EN55022 (EN55032) class B for both conducted and radiated noise, making the path to compliance much simpler.
The TCF40 is certified to IEC/UL/CSA/EN60950-1 for safety.