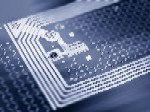 "The technology has been around for 40 years, but now it's becoming useful because it's getting cheaper," says Professor Edgar Fleisch of the University of St Gallen, part of the EPCglobal consortium aimed at standardising RFID.
"People have been saying for years that RFID will have a very big future, but we're always wondering when this future is going to happen," says Bodo Ischebeck, senior director and general manager for Ident Solutions activities at Infineon Technologies, which opened its RFID Solution Excellence Centre at Graz, in Austria, last month.
"Maybe the reason why the future hasn't happened," adds Ischebeck, "is because the technology is there but the competence to implement it is lacking." Graz's brief is to transfer RFID into the real world by providing integrated systems.
The worldwide market for integrated RFID systems was worth €1bn in 2002 and will be worth €2.5bn in 2007 representing a five year CAGR of 20 per cent. Driving the market is the fast reducing cost of the technology as worldwide standardisation starts to apply, and as the cost of RFID tags drops. For instance a goal of EPCglobal is, says Fleisch, "that every reader will be able to read every tag in every country".
Wal-Mart, Coca Cola, Tesco, Sainsbury's, Marks and Spencer and Unilever, among many other large consumer manufacturers and retailers, are involved in the project.
These companies have a vested interest in standardising RFID. "If you take the average loss through theft in the consumer retail industry which is 1.8 per cent of sales – representing nearly half the average profit margin of four per cent – then there's a good business case for using it," says Fleisch.
Estimates put the loss through the inability of retailers to trace inventories, some due to theft, at $30bn annually. Having an RFID tag on products provides an instant trace of goods though, at 50 cents a shot, it is clearly an inapplicable solution for low-priced items.
However, tags will be down to 20 cents apiece in two years times and 10 cents in five years, says Ischebeck, assuming volumes of one billion-plus per year.
One problem for tagging consumer items is having a foolproof process for de-activating the RFID chip. Infineon is developing such a chip at Graz and Philips Semiconductors is already sampling one.
Having been around for so long, RFID has attracted a lot of hype. Fleisch scorns some touted applications. "Having tags on stuff in your fridge which tell you when it's getting old and it's time to re-order – that's no good at all, there's no business case for that," he says.
Another hyped application was putting tags in banknotes. "It keeps getting raised, but there is no technology available in terms of life-time and non-destructibility, and it's too expensive," explains Ischebeck.
Airline tickets and/or boarding passes are seen as a big, almost ideal, market for RFID tags because, says Ischebeck: "It's tracking a logistics flow as a passenger goes through all the security checks, and baggage checks, and ensures that the hand baggage he brings into the airport is the same hand baggage he carries onto the airplane."
RFID in remote keyless entry for cars is now ubiquitous. London Underground started using RFID cards late last year; Oracle announced in March it was putting RFID data recognition into its database and server software; Fedex is phasing in RFID technology; Wal-Mart and the US Department of Defence have pilot projects underway.
The International Civil Aviation Organisation (ICAO), supported by the US and EU, said in March that it plans an identity register requiring biometric data and RFID tracking tags to be included in all passports, amounting to over a billion worldwide, by 2015. Tickets for football's World Cup 2006 will have RFID chips in them. At last month's CeBIT, Nokia said it would start putting RFID technology into its mobile phones; Hong Kong airport has invited tenders for a UHF RFID system for baggage identification.
UHF RFID, operating in the band between 868MHz and 915MHz, is the next area to be standardised. The existing standards are for RFID at 130kHz and 13.56MHz. UHF will allow RFID chips to operate at ranges of three or four metres, instead of the maximum range (depending on antenna size) of one metre in current 13.56MHz tags.
"There are attempts to standardise the UHF frequency band, and the technology, around the world," says Ischebeck. "We hope by the end of this year Europe will have identified a UHF band."
He expects semiconductor manufacturers to start developing UHF RFID tags in June for high volume shipment in 2005.
At the other end of the spectrum, Infineon's attempts to make RFID tags out of plastic, in a joint venture with Siemens, have been abandoned. "We could only get the frequency up to 100kHz and, at that frequency, the coils require to be wound so many times that they make the tag too expensive," says Ischebeck.
Moving up the frequency scale beyond UHF RFID is microwave RFID – operating at 2.45-5.8GHz – which could extend RFID range to 15 metres with active tags. This will enable RFID road tolling systems for which many European governments have projects.
While world peace might have to wait, and videophones are anyone's guess, RFID tags are a future already starting to happen.