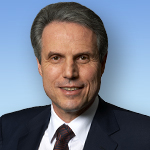 ST's two Carlos – Bozotti and Ferro (pictured) – are handing over a company in very good shape, Jean-Marc Chery, the incoming CEO, told ST's Capital Markets Day in London this morning.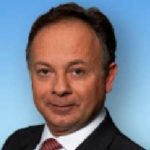 Q1 was up 22.2% y-o-y, Q2 is expected to be up 17.5% y-oy. Q4 2017 saw a 32.6% y-o-y increase.
Q1 revenues were $2.23 billion for a profit of $239 million. $351 million went into capex in Q1, said Ferro,  2018 capex is budgeted at $1.2-1.3 billion. Net financial position is a positive $522 million.
Chery outlined a strategy which builds on the legacy.
The technology  foci  are: MEMS, BCD for smart power, discretes (passive integration, power MOSFET, IGBT, SiC, GaN), specialised imaging, vertical intelligent growth, analogue and RF CMOS and FD-SOI.
This year's growth drivers – with 14-17% growth – are expected to be  analog/MEMS/sensors, MCU and digital ICs, and automotive and discretes, said incoming CFO Lorenzo Grandi.
ST's markets will continue to be automotive, which currently accounts for 30% of total revenues ($3.06 billion), industrial which accounts for 27% of revenues, personal electronics which accounts for 26% (of which 18%  comes from smartphones), and comms, computers and peripherals which account for 17% of revenues. 
The automotive market is a particularly good place for ST to be with the value of silicon content in automobiles growing at 3.6% between 2016 and 2021, said ST's auto boss Marco Monti. 
The value of the silicon content of an average car is now $330 and, in a premium car, over $$1,000. 
SiC development for 650V-1200V MOSFETS  and DIODEs has been crucial for the automotive market with adoption much faster than expected, said Monti,  two million SIC devices were shipped last year and 20 million are expected to be shipped this year.
SiC development started in Catania in 1996, said  ST's Giovanni Luca Sarica, and now the market is about to explode  from $350 million this year to $2.8 billion in 2024.
In MCU, ST is now No.2 behind Microchip said Claude Dardanne who heads the group. Back in 2007  ST was No.12 and it took a decade, and a gain of 13 points of market share, to overtake NXP last year to take the No.2 slot.
The STM32 is ST's MCU vehicle for neural networks and AI applications and won the slot in Amazon's Alexa voice controlled personal assistant.
 Analogue, MEMS and sensors are the second largest business group with $2.63 billion of  sales last year which was 41% up on 2016, with MEMS and sensors growing 64% and analogue growing 23%, said the head of the group Benedetto Vigna.
A 1.2V/8V-60V ST BCD process with ePCM option is now on 90nm, said Vigna, PZT microactuators, motion MEMS,  environmental MEMS, proximity and ranging sensors using ToF technology and 3D sensing for face recognition and solid state LIDAR among other applications are technology leaders in their fields.
ST has the world's largest sensor portfolio said Vigna, with market leadership in ToF sensors, MEMS sensors, PZT microactuators, and 3D sensors.
ST has been through the wars but it is now exuding the confidence which comes from being in growth market areas with technology leadership in many of them.