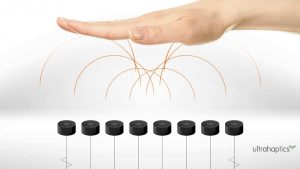 Ultrahaptics' mid-air haptic technology  projects tactile sensations directly onto a users' hands, using ultrasound.
The technology is being used in a wide range of fields, such as increasing driver safety through tactile feedback for gesture-based applications and enabling the sense of presence in interactions with virtual and digital media.
The company has created development kits for clients to evaluate the technology, and to accelerate prototyping and product innovation with haptic feedback.
Arrow  will market and sell development kits into a variety of electronics markets worldwide, spanning applications including AR and VR, industrial controls, automotive, advertising, and location-based entertainment.
"Arrow is well placed to support Ultrahaptics' wide and varied customer base, whilst bringing the expertise of supporting the engineering demands of the electronics industry," says Ultrahaptics' David Hearne.