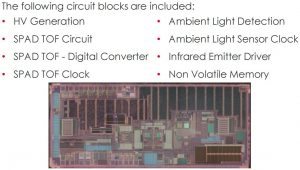 Last November ST was reported to have signed a 'huge' order with Apple for image sensors. Presumably for iPhone8 – Apple's 10th anniversary iPhone.
According to analysts BlueFin, Crolles is the only manufacturing site ST has for its Time-of- Flight-based proximity sensors which are aimed at gesture control, robotics, AR and a host of applications where accurate ranging is required,
ST's Time-of-Flight technology is incorporated into packages containing proximity sensing Single Photon Avalanche Diode (SPAD) multi-hundred pixel arrays, an Ambient Light Sensor (ALS) and a Vertical Cavity Surface-Emitting Laser (VCSEL)l
"These 3D sensors have a long production cycle time and relatively low yield rates, which will make it difficult for STM to get back on their production schedule target with each day that the fab is incapacitated," say BlufeFin.
The BlueFin analysts estimate it will be several weeks before ST can get production rolling again.