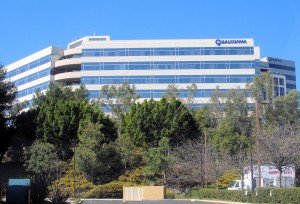 Shareholders will vote on whether to give Broadcom nominees a majority on the Qualcomm board.
If they do, then Qualcomm gets taken over by Broadcom.
For wireless technology, the loss of its pioneer would be a tragedy.
For Qualcomm's licensees, the result could be a mixed blessing. They have been stung by onerous contracts over the years, but Broadcom also has a reputation for imposing tough conditions on customers.
For Qualcomm's co-litigants like Apple there's the prospect of a speedy settlement.
For national regulators around the world, there's likely to be relief at getting a less obdurate company to oversee.
From US regulators like CFIUS and the FTC there is unlikely to be much sympathy for Qualcomm whose founding family, the Jacobses, have been munificent fund-raisers for Bill and Hillary Clinton.
It is reported by Dow Jones that, at the end of January, Qualcomm asked CFIUS to intervene.
One doesn't know what Qualcomm's co-founder Irwin Jacobs thinks of the company slipping out of family control, but one would think he's not pleased.
Qualcomm has been excessively belligerent with customers and regulators and has seen its share price slip as a result.
$10 invested in Qualcomm shares three years ago is now worth $7.50.
And that's the sort of thing that sways shareholders when they vote tomorrow.