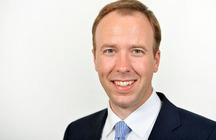 The Digital and Culture Secretary, Matt Hancock (pictured), today begins a three-day visit to India to launch the UK-India Tech Partnership.
He will confirm the partnership will link the Midlands Engine with Maharashtra with a focus on future mobility including low emission and autonomous vehicles, battery storage and vehicle lightweighting.
He will say the Northern Powerhouse will be linked to Karnataka with a focus on data, augmented and virtual reality, advanced materials and AI. He will say, if successful, he expects the partnership to link other regions in the UK and India.
The partnership, announced during Prime Minister Narendra Modi's recent visit to London, will pair businesses, universities and tech institutions in the two countries and develop a new UK-India Tech Hub in Delhi.
In Delhi, Hancock will address the Indian tech industry body NASSCOM, meet leading Indian firms including Paytm, Quatrro and DevITPL, and confirm a new UK-India Tech Thought Leadership Summit will be held in India in the Autumn.
He will meet with UK and India investors to lay the foundations for new deals in areas such as fintech, cybersecurity, health-tech and smart cities. He also launched the expanded Tech Rocketship awards, which helps Indian tech start-ups establish their businesses in the UK, boosting fresh innovation in Britain.
In Mumbai he will champion the UK's artificial intelligence and fintech industries at an event hosted by the Confederation of Indian Industry (CII) and Indian business leaders. This will build on recent agreements for the UK's financial services industries to work closer together and build stronger economic links between London and Mumbai.