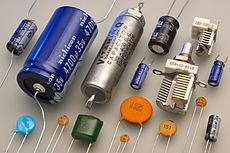 The EU has fined seven companies a collective €254 million for running a capacitor cartel.
The seven are: Nippon Chemi-Con Corp, Hitachi Chemical, Nichicon, Rubycon, Elna, Tokin and Matsuo Electric.
An eighth member of the cartel, Sanyo Electric, was not fined because it acted as whistleblower reporting the cartel's wrongdoings to the EU.
The EU found that, between  1998 and 2012, the companies "participated in multilateral meetings and engaged in bilateral or trilateral contacts to exchange commercially sensitive information".
They exchanged information on future prices and pricing intentions, and on future supply and demand information.
They agreed prices between eachother and monitored that they were adhered to.
Emails between them showed that they knew that what they are doing was illegal.