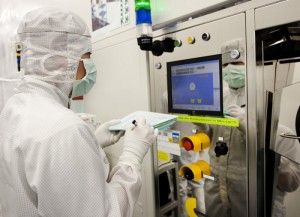 Europe spent $2.18 billion on fab equipment last year, while China spent $6.46 billion.
The biggest spender was Taiwan at $12.23 billion followed by Korea at $7.69 billion.
Japan is in fourth place at $4.69 billion and the US is fifth with $4.49 billion.
Rest of World is sixth at $3.55 billion.
Worldwide sales of semiconductor manufacturing equipment totaled $41.24 billion in 2016 – a y-o-y increase of 13%.
2016 total equipment bookings were 24% higher than in 2015.
Worldwide billings totaled $41.24 billion in 2016, compared to $36.53 billion in 2015.
Equipment categories cover wafer processing, assembly and packaging, test, and other front-end equipment.
'Other front-end' includes mask/reticle manufacturing, wafer manufacturing, and fab facilities equipment.
Spending rates increased for Rest of World (primarily Southeast Asia), China, Taiwan, Europe and South Korea while the new equipment markets in North America and Japan contracted.
Taiwan was the largest market for semiconductor equipment for the fifth year in a row.
Korea remained the second largest market for the second year in a row.
The market in China increased 32% surpassing both Japan and North America to become the third largest market.
The 2016 equipment markets in Japan and North America fell to fourth and fifth place, respectively.
The global 'other front-end' segment decreased 5%; the wafer processing equipment market segment increased 14%; total test equipment sales increased 11%; and the assembly and packaging segment increased 20%.
Semiconductor Capital Equipment Market by World Region 2016
$bn
Taiwan 12.23
Korea 7.69
China. 6.46
Japan. 4.69
USA. 4.49
RoW. 3.55
Europe. 2.18