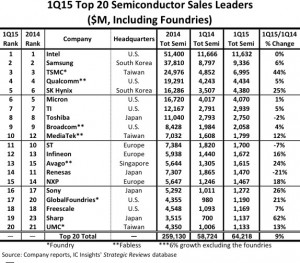 The six are: Sharp at 62% thanks to CMOS image sensors and Sony with 26% also thanks to CMOS image sensors. The other four are TSMC up 44%, Hynix up 25%, Avago up 24% and GloFo up 21%.
After 12% y-o-y growth, MediaTek hit the top ten for the first time and is expected to hold its place in the year-end rankings.
The only three to decline compared to Q1 2014 are Toshiba down 2%, ST down 7% and Renesas down 21%.
Following its merger with IR, Infineon is now level-pegging with ST which drops out of the top ten.
When NXP and Freescale merge they will be a top ten company as will a merged Avago-Renesas – if that happens.
The top-20 semiconductor companies' combined sales increased 9% y-o-y, which is 3% better than the total industry growth rate.
Hynix overtook Micron and is on a growth trajectory to overtake Qualcomm by the end of the year and take 4th place.