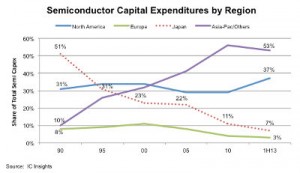 The capex was spent mainly on fabs to produce DRAM and flash memor and microcontrollers, and to bolster wafer foundry operations.
Mostly on account of spending by Intel, GlobalFoundries, Micron, and SanDisk, North America accounted for 37% of capital spending in 1H13, a few points higher than the steady 29%-33% share it has held since 1990.
There are three large European semiconductor suppliers and each now operates using a fab-lite or asset-lite strategy, which is why semiconductor capital spending from European companies accounted for only 3% of total capex in 1H13.
IC Insights forecasts capex spending by Europe-based ST, Infineon, and NXP and all other European semiconductor suppliers combined will amount to less than $1.5 billion in 2013.
Led by Samsung, Intel, and TSMC, there are nine semiconductor suppliers that are forecast to spend more money on their own than Europe will spend collectively in 2013.
In IC Insights' opinion, IC manufacturers that are currently spending less than $1.0 billion a year on capital outlays will find it just about impossible to continue being able to manufacture using leading-edge digital processing technology, which is why European suppliers now outsource their most critical processing to foundries.