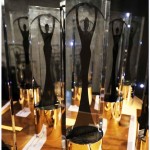 These represent the product launches, employee initiatives and business achievements which most impressed a panel of independent judges including Steve Furber, ICL Professor of Computer Engineering, School of Computer Science, University of Manchester, Adam Fletcher, chairman of the Electronic Components Supply Network, Derek Boyd, CEO, National Microelectronics Institute, Markus Levy, president, Embedded Microprocessor Benchmark Consortium (EEMBC), Marco Pisano, programme manager, Intellect and Jon Howes, technology director, Beecham Research.
Engineers of the Future
Educational Support Award
Sponsored by FTDI Chip
ARM – Code Club Sponsorship to teach programming in primary schools
Axiom Manufacturing Services – Initiative to inspire the next generation of young engineers
Cambridge Design Partnership – Supporting the Bloodhound Project schools student initiative
MathWorks – LEGO Mindstorms NXT robotics design contest
Premier Farnell – Education support at Swallow Hill Community College in Leeds
Rohde & Schwarz – Support for University of Surrey 5G Innovations Centre
Samsung Electronics – UK Academies providing engineering vocational training courses

Rising Star New Engineer of the Year
Sponsored by National Instruments
To be presented to a talented young engineer in their first five years in the industry who has demonstrated a high level of theoretical knowledge and practical skill which has contributed to the business.
University Department of the Year
Sponsored by RS Components
To be presented to an electronic and electrical engineering department within a university or collage which has demonstrated high academic success, world-leading research projects with industrial partners and international collaborations.

Business Awards

Design Team of the Year
Sponsored by European Recruitment
Amantys – Six month hardware and software design project
Cycle Alert – Design of a safety system that alerts HGV drivers to cyclist's presence
Nordic Semiconductor – Adding software design expertise to its hardware team
RFEL – Design of a real-time, video processing system defence and security markets
SureCore – Design of an ultra-low power patented semiconductor memory technology
Team Consulting – Design of a system to facilitate liver transplants
Distributor of the Year
Sponsored by IC Group
Arrow Electronics
Digi-Key
Mouser Electronics
Premier Farnell
RS Components
Silica
Manufacturer Export Award

Optoelectronic Manufacturing Corporation
Plexus
TDK-Lambda UK
TT electronics integrated manufacturing services
Wilson Process Systems
New Company of the Year
Sponsored by Agilent Technologies
GaN Systems
OEMsecrets
Versarien
Environmental Award
Amphenol – Black zinc nickel plating finish for military connector
AVX – Solutions for Hope conflict-free tantalum supply chain initiative
Environ UK – BOMcheck materials declarations web database
Farnell element14 – Global packaging recycling project
Iceotope – environmentally-friendly cooling system at the University of Leeds
Product Innovation Awards
Design Tools and Development Software Award
Cadence Design Systems – Virtuoso Layout tool with electrically aware design
Digia Qt – Qt 5 cross-platform application development framework
IAR Systems – I-scope probe for power optimisation
Mentor Graphics – Tessent Testkompress with cell-aware ATPG
RS Components – DesignSpark PCB versions 4 & 5
XMOS – xTIMEcomposer microcontroller design tool

Passive & Electromechanical Product of the Year
Harwin – Gecko environmentally-friendly connector
Murata Europe – KCA surface mount automotive safety capacitor
Panasonic Industrial Devices – Polymer hybrid capacitor
Peratech – Quantum tunneling composite ink for roll-to-roll printing
Smiths Connectors – Micro Snaptac low profile connector
Versarien – VarsarienCu copper-based thermal interface material

Power Product of the Year
Analog Devices – ADP1051 digital power controller with a PMBus interface
Bytec Medical – Geni-Tec intelligent battery system
International Rectifier – COOLiRIGBT 600V IGBT
Intersil – ISL8225M small footprint 100W switching power module
Power Electronic Measurements – CWT ultra-mini probe
TT electronics – Power module for KTM off-road motorcycle

Renewable Energy Design Award
Sponsored by International Rectifier
Advanced Technology Institute, University of Surrey – Hybrid nano-carbons for 4G renewable energy systems
Fairchild Semiconductor – FAN324x smart dual-coil relay driver
Maxim Integrated – Zeus smart-meter system-on-a-chip device

Semiconductor Product of the Year – Analogue
Sponsored by Mouser Electronics
Analog Devices – AD9250 high speed 14-bit ADC
ON Semiconductor – R3710 Invisible-in-canal hearing aid device
Linear Technology –  LTC6804 Multicell battery monitor
Microchip Technology – MGC3130 electrical near field 3D tracking and gesture controller
Silicon Laboratories – Si7005 humidity/temperature sensor
STMicroelectronics – cSpin single-chip motion controller

Semiconductor Product of the Year – Digital
Sponsored by Rohde & Schwarz
Broadcom – BCM7445 – Ultra high definition TV decoder
Freescale – KL02 ARM Cortex-M0+ microcontroller in tiny package
FTDI Chip – FT800 Video engine for display, audio and touch operations
Microsemi – SmartFusion2 system-on-chip FPGA
Renesas Electronics – R-IN32M3 Industrial Ethernet controller with hardware acceleration
Toshiba Electronics – Visconti 3 image recognition processor

Solid-State Lighting Product of the Year
Sponsored by Anglia Components
ams – TSL2591 high sensitivity digital light sensor
LED Engin – LuxiTune dimmable LED lighting engine
Melexis – MLX81106 LIN controller RGB LED driver
Power Integrations – LYTSwitch-0 LED driver for non-dimmable GU10 bulbs
Verbatim – VxRGB directional LED lamp
Zeta Specialist Lighting – Spider Light large area chip-on-board LED array

Test & Measurement Product of the Year
Aeroflex – PXI Maestro multiple wireless device test system
Anritsu – ME7873L LTE-Advanced RF conformance test system
EasySYNC – DS60M10 multi-function USB-based instrument
Keithley Instruments – Source Meter 2450 with capacitive touchscreen user interface
Pico Technology – PicoScope 5000 variable resolution USB-based oscilloscope
Tektronix – AWG70001A 50GS/s arbitrary waveform generator

Wireless/RF Product of the Year
Sponsored by MSC Gleichmann UK
Advantech Europe – EKI-6340 self-healing wireless mesh network
CommAgility – AMC-RF2x2 software defined radio RF front end for LTE
Dialog Semiconductor – Smartbond low power Bluetooth Smart device
Lime Microsystems – Myriad RF open-source wireless development platform
Linear Technology – SmartMesh low power wireless sensor mesh network IP
Low Power Radio Solutions – eRIC entry-level embedded wireless system

Product Innovation Award – Readers' Choice
Sponsored by Avnet Electronics Marketing 
Electronics Weekly editors have selected five intriguing and innovation product technologies. You are invited to vote on the Electronics Weekly website for the product which you believe is the most innovative and/or useful.
Haptic touch device
In-building 4G LTE coverage booster
Audio/video streaming over Ethernet and 802.11 wireless
Cyber-rhino powered by Raspberry Pi
Stereo amplifier for battery-powered Bluetooth loudspeakers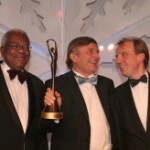 The winners in each category will be announced at an Elektra Awards Dinner which takes place on Wednesday 27th November at Grosvenor House Hotel, Park Lane in London.
The established annual highpoint of the electronics industry, the Elektra 2013 Awards will promote best practice in key areas including, innovation, sales growth and employee motivation.
We are now open for table bookings.

To book your place at the Elektra Awards 2013 ceremony, visit our booking page.