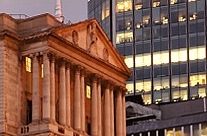 Today the IMF said that it had raised its previous 3.6% forecast for world GDP to 3.7%. Goldman Sachs and Credit Suisse are also forecasting 3.7% world GDP growth this year.
UK GDP is forecast to grow 2.4% this year. The US economy grew at over 4% between July and September, says the US Department of Commerce.
Bank of America Merrill Lynch estimates that companies are siting on cash of $4.5 trillion – $1.4 trillion in the US, $1.1 trillion in Europe and $613 billion in Japan.
The semiconductor market is still robust growing at 10% in unit terms last year. "This is not a depressed market, it's still on historic average growth rates," said Penn.
An EC survey finds that European manufacturers intend to increase capex by 3% this year.
In Japan, prime minister Shinzo Abe wants to see higher wages. "What we want is for wages to rise more than prices," says Abe, so that workers spend more and then the economy grows and corporate profits are boosted.
The big unknown is debt. Despite austerity, this is soaring going up from 45% of world GDP ten years ago to 75% of GDP today and now standing at $50 trillion.
This means some countries are creditors on a massive scale. But what their attitude is going to be to their debtors is something no one knows.