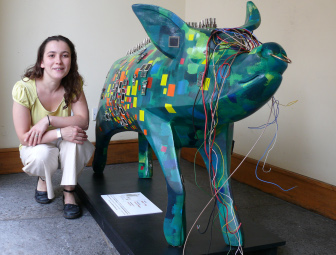 Pictured is Claudia Phipps with the pig she created for the 2008 Bath Pig Parade in honour of the Founder of Bath, King Bladud. The pig was sponsored by picoChip, the Bath wireless chip specialist.
Bladud, who reigned for 20 years from 863BC, contracted leprosy on a trip abroad and on his return was disinherited and imprisoned.
Escaping, Bladud found work looking after pigs at Swainswick, a village outside Bath.
He noticed that some of the pigs enjoyed bathing in hot mud baths and those that did do appeared immune from the skin diseases affecting the other pigs. Bladud tried the hot mud and found it cured his leprosy. He was re-instated as heir to the British throne and founded the City of Bath to encourage others to benefit from its healing powers.
Every year Bath celebrates its pig connection with this parade. The picoChip pig, called 'Chip & Pig' was one of over a hundred entrants.
"It may sound hammy, but Claudia has more 'sow know-how' than you can wiggle a curly tail at", said Guillaume d'Eyssautier, CEO of picoChip.
The pig will be sold at auction on Oct 31st to raise money for the Two Tunnels Project for improving local cycle paths.