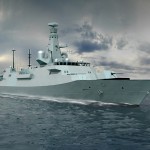 Rohde & Schwarz said its proposal for the Type 26 emphasised system reliability to reduce the though life cost with respect to support.
This down selection after a 12 month competition process follows on from previous Rohde & Schwarz Naval successes in the UK which include providing communication solutions to the Royal Navy's Queen Elizabeth Class Aircraft Carriers, River Class Offshore Patrol vessels and the Royal Fleet Auxiliary's Bay Class, Vessels.
The company has already supplied communications systems to the Australian Hobert Class Air Warfare Destroyer's, the Royal Dutch Navy LCF Frigates and Landing Platform Docking LPD's, and the Spanish Navy with the F100 Class Frigate's and LPD.