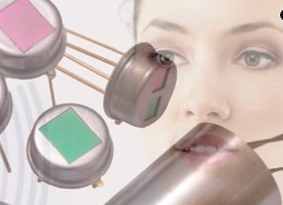 Pyreos develops infrared sensor products using passive-infrared technology for applications in the oil and gas sector, but also touchless gesture control of smartphones and tablet PCs and detection medical illnesses such as diabetes.
The passive-infrared sensor technology run off micro-watts of power making them interesting for gesture and proximity designs by smartphone manufacturers.
The $4m funding secured by Pyreos will enable the company to grow the touchless, human gesture command marketplace by initially launching two separate products which specialise in human gesture and proximity recognition at a near range of 20cm and another at a range of up to 1 meter in the smartphone and tablet markets as well as open up further growth opportunities within the PC, TV, docking station, audio speaker and smart energy device markets which are equally attracting significant customer traction.
New CEO Baxter was previously CEO at Validity Sensors, acquired recently by Synaptics and formally as CEO at Centrality Communications which was acquired by SiRF Technologies in 2007.
Howard Ford, Chairman of the Pyreos Board said "After a selection process involving world-class candidates, our decision to appoint Rob Baxter was based on his outstanding experience of driving companies of Pyreos' market position and size to success and we look forward to our continued growth and success under his leadership."
The investment, led by Robert Bosch Venture Capital, Seraphim Capital, Siemens Technology Accelerator and the Scottish Investment Bank (SIB).
"We are excited to support Pyreos in exploiting existing and untapped opportunities within the field of human, touchless gesture and proximity control using Pyreos' core technology. The design breakthrough they have achieved in reducing power consumption and hence eliminating the long-standing, industry barrier of the battery drainage issue means the potential in mobile and handeld applications across consumer and industrial markets globally, is expolsive," said Claus Schmidt, managing director of Robert Bosch Venture Capital.
The firm's sensor's are already used in the industrial gas and flame markets and also in the handheld spectroscopy market.