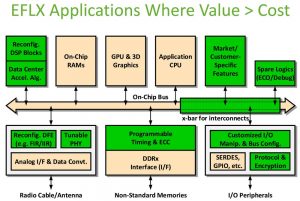 Lux Capital and Eclipse Ventures were joined by the Tate Family Trust in the latest funding round.
The money will be used to expand the company's  sales, applications and engineering teams.
"We now have customers with working silicon, multiple licensees and are seeing our first repeat designs," says Geoff Tate, CEO of Flex Logix, "with a large number of customers in active, detailed evaluation of our technology for a wide range of applications, we expect significant growth of our customer base in the near term. As a result, we're staffing up 'ahead of the curve' to ensure we can satisfy the demand."
The Flex Logix EFLX platform can be used with networking chips with reconfigurable protocols, data centre chips with reconfigurable accelerators, deep learning chips with real-time upgradeable algorithms, base stations chips with customizable features for multiple markets, MCU/IoT chips with flexible I/O and accelerators, and aerospace/defense applications including rad-hard embedded FPGA. EFLX is available for the most popular process nodes already and is being ported to additional process nodes based on customer demand.
The Flex Logix platform is the most scalable and flexible embedded FPGA solution on the market today, delivering competitive advantages in time to market, engineering efficiency, minimum metal layers and high density," says Pierre Lamond, Partner at Eclipse Ventures.
"We believe that Flex Logix's embedded FPGA has the potential to be as pervasive as ARM's embedded processors have become today," says Lux's Peter Hebert.